License: Free
Available on:english , italiano , arabic and more
Added: 10/2009
Updated: October/2009
Publisher: Website
File size: 3.2 MB
Downloads: 253,301
CCleaner is a small utility that will take care of a few of the important maintenance tasks that every computer user should carry out as regularly as possible to keep their systems in top shape. Fast, reliable and easy to use - CCleaner it's one of the best cleaning systems out there.
For me, the beauty of CCleaner is the speed at which it carries out the various scans and fixes. Its main purpose is to clean any unnecessary files from your hard-drive and on opening the program you see the various aspects of Windows that you can search through and clear. CCleaner will also detect your installed applications that may hold on to files which are no longer any use, such as Google Earth histories or Flash Player configurations.
The interface in CCleaner is very easy to navigate and before taking any action, you will always be asked to confirm that you are sure about what you want to do. There is a useful registry checker that will quickly check its integrity, and let you fix bad entries after making a backup. CCleaner uninstall and startup tools are handy to have and simply add to the usability of this very rounded little maintenance assistant.
The most recent release of CCleaner now works on Vista with Admin permissions where available and features various bug fixes and improvements to the translated versions.
CCleaner makes keeping your PC clean easy for beginners and experts alike. It's small, fast, comprehensive, and free to download it - get cleaning now!
Languages:
English, Spanish, German, French, Chinese Trad, Gallego, Italian, Portuguese BR, Russian, Turkish
Recent changes in CCleaner:
* Added support for Google Chrome recently closed tabs.
* Disabled removal of most recent System restore point.
* Fixed bug with Internet Explorer 8 Compatibility View settings.
* Improved uninstaller support for Windows 7.
* Enhanced right-click menu options for Cleaner screen tree.
* Added extra information under title for Options and Tools screens.
* Added right-click menu to Registry screen tree.
* Added support to multi-select items in Include, Exclude and System Restore screens.
* Added language support for Estonian and Farsi.
* Internal 64-bit improvements.
* Minor bug fixes.
OS requirements for CCleaner:
* OS: Win95/98/98SE/Me/2000/NT/XP/Vista/7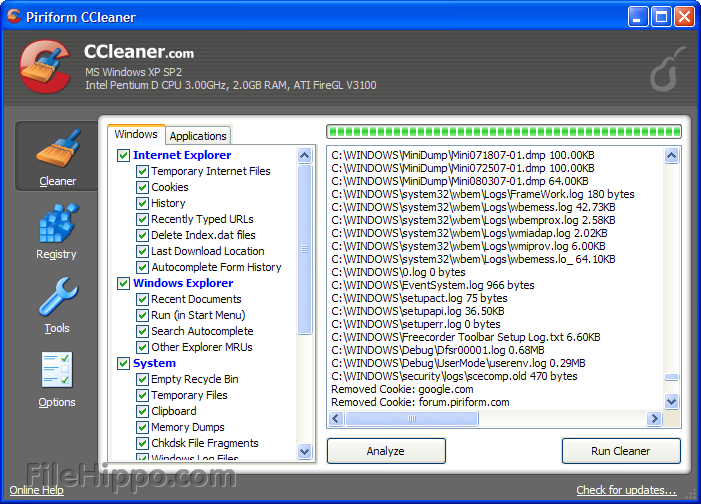 click the link to download the latest version
http://www.ccleaner.com/download/downloading
by bolbol europa